Halo ActionClix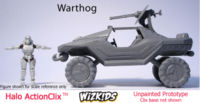 Unpainted Halo miniatures from the Halo ActionClix set.

Halo ActionClix was announced on the 2nd of February, 2007. It is said to bring brand-new game mechanics to the WizKids Clix game franchise, such as weapon swaping, figure respawning and vehicle-based combat. The set is said to include 80 minis and contains a few preview miniatures for Halo 3.
A number of vehicle packs are being made, as well as a surprise for San Diego Comic-Con this July. Figures are to be sold in randomized booster packs, where the vehicles and starter set are to be sold in a diorama display format.
The Halo ActionClix CMG is expected to be released at retail in September 2007, with special Prerelease figures available at San Diego Comic-Con July 26 - 29, and at Gen Con Indy August 16 - 19.
I've included some basic info on the factions here:

More info is available on the [1] Halo Wiki.
Ad blocker interference detected!
Wikia is a free-to-use site that makes money from advertising. We have a modified experience for viewers using ad blockers

Wikia is not accessible if you've made further modifications. Remove the custom ad blocker rule(s) and the page will load as expected.